Fan & Motor
Exhaust Filters
Solenoid Valve
Nuts & Bolts
Manometer
Light Fixtures
Assembly Instructions
Tubes or Bulbs

Duct Package

Sprinkler Systems

Air Lines

Electrical Switches

Motor Starter

Attachment Anchors from booth to floor

Electrical Hookup
Conveyor Openings

Explosion-Proof Motors

Custom Sizing

Powder

coated

panels

Front filtered doors to include venting latch(es) & door interlocks

Crossdraft

Downdraft

Semi-downdraft
Automotive-type Booths are generally used for vehicular-type equipment with drive-in or drive-thru options.  They are best for supplying clean air and quality lighting.  Various draft and heat options are available.  Heated air make-up is recommended for cold climates.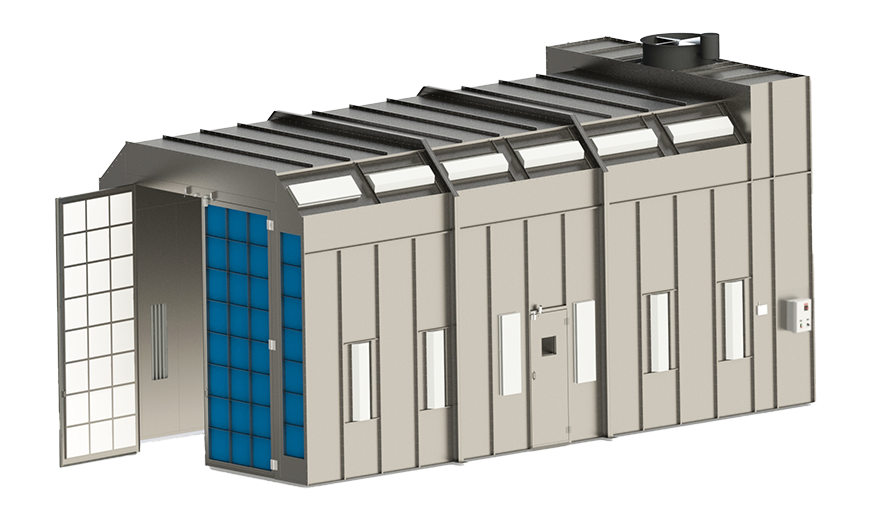 INTAKE FILTERS

 
Various options are available.  Clean air efficiency requirements are the determining factor. All intake filters are listed as Class I or II in accordance with UL 900. 
EXHAUST

PLENUM/

FILTERS

 
Various options are available
: fiberglass, high efficiency, pocket type, and more. Depending on your process,
our experts can suggest
the
best
filter
suited for your
needs.
FAN
Construction
Construction for fan is of non-sparking materials.
AMCA Certified for air and sound
Fabricated Aluminum Blades
Motor
Motors are U.L. Listed
3-phase, 208/230/460 volt, 60Hz
Face Velocity exceeds 100 F.P.M. code requirement
See specs for C.F.M. values per booth size
Belt driven with enclosed belt guards
Motor to include identification plate stating the ventilation rate for which the system is designed
Solenoid Valve
Single Phase (voltage must be stated)
LIGHT FIXTURES
U.L. and C-U.L. approved. 120-volt Light Fixtures. 
LED
and
Fluorescent
available
.
Types
Vapor- Tight (V.T.) for Class 1, Division 2 locations (National Electric Code and NFPA 70)

Listed Open-Type (O.T.) fixtures
Mounting
Placed on the outside of ¼" clear tempered (heat treated) glass

,

gasketed

and locked into place at the working depth.
MANOMETER
A
visual differential pressure gauge required for filtered spray booths. As build-up occurs, pressure increases.  The manometer provides a visual indication that filter(s) require replacement.